POSTCARDS ARE ONE OF THE MOST MEANINGFUL WAYS OF SENDING A MESSAGE. ITS INVENTION WAS AN IMPORTANT MILESTONE IN THE HISTORY OF COMMUNICATION, AND LATER OF THE VISUAL ARTS, ENABLING A CONVENIENT, AFFORDABLE AND PRACTICAL WAY FOR ANYONE TO SEND A MESSAGE TO THOSE NEAR AND FAR… AND OFTEN A VERY PRETTY ONE TOO! SO, IT'S NO WONDER THAT THE POSTCARD HAS BEEN LOVED AND CHERISHED FOR THE PAST 154 YEARS AND THAT IT CONTINUES TRAVELING ACROSS THE WORLD TODAY.
Winner of the 2023 design competition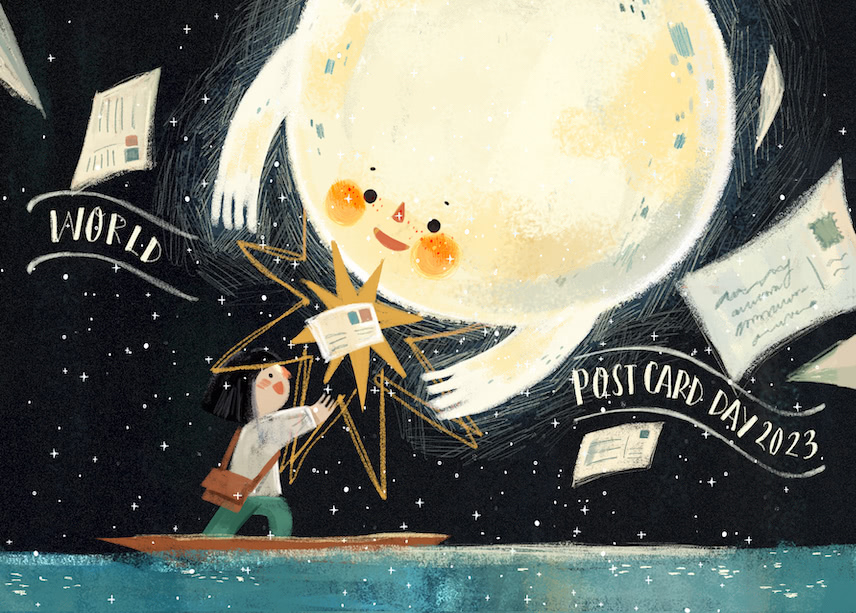 Lisa Saputra, Indonesia
Once in a blue moon, the two long lost friends meet and hug each other. Their hundreds of letters and postcards roamed the oceans before they finally met. Now they can say, "till we meet again, my dear friend!"
This design is the official image of
the World Postcard Day 2023 —  get it here!